What is cloud computing services?
Cloud computing is a service made available to users on demand via the internet from a provider's server, local or remote, as opposed to being provided from an enterprise's on-premise, generally dedicated servers. Cloud computing services are designed to provide easy, scalable access to applications, resources and services, and are fully supported by a specialized provider. A cloud computing service can dynamically scale to meet the needs of its users. Because the service provider supplies the hardware and software necessary for the service, there's no need for a company to provision or deploy its own resources or allocate IT staff to manage the service. Examples of cloud computing services include online data storage and backup solutions, web-based e-mail services, hosted office suites and document collaboration services.
Example of Cloud Services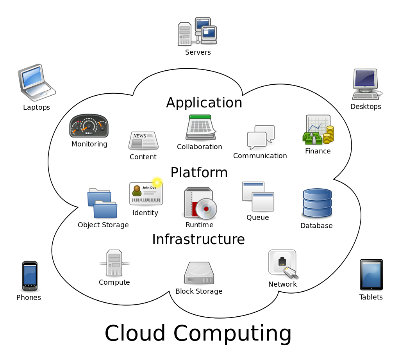 What ETS is doing with cloud computing?
ETS is actively working with our District and college colleagues to put more applications to the cloud.

Although cloud computing services can alleviate some system services and support requirements from the campus and district computing services, ETS is looking at other ramifications of introducing this new service paradigm into our portfolio of services provided to the colleges and district.

Things such as data security, employee training, and new computing policies are all being worked on by ETS management and staff to reflect the new service requirements. ETS is also looking at both internal structure and development methodology to face this new technology challenge.

You should expect a fair amount of applications from ETS support portfolio to move to cloud services in the near future.
What current district and colleges applications are running on the cloud?
The following applications are currently running from cloud computing services, and are available from MyPortal:
1. Smarthinking online tutorial service for De Anza students
Watch a short introduction video
Steps to Access Smarthinking
a. Log into MyPortal.
b. Click the Student Tab.
c. Find the Smarthinking Online Tutoring channel and "Click to Login."
2. Open CCCApply


Open CCCApply is a new online gateway to apply to the California Community Colleges. The application is hosted at a computing center sponsored by the California Community Colleges Chancellor's Office.
Link to the web site to apply to the Foothill – De Anza Colleges:
http://home.cccapply.org/.
3. ETUDES at Foothill


4. De Anza's Catalyst Learning Management System
5. Orgsync at Foothill
6. Upcoming projects:

a. Medicat


b. Advocate