What is telepresence?
Telepresence is a term used to describe a set of technologies, such as high definition audio, video, and other interactive elements that enable people to feel or appear as if they are present in a location in which they are not physically located. Used mainly as a collaboration tool, telepresence is used by vendors, including Cisco to help create a more "in person" meeting experience over a data network and the Internet. Telepresence differs from videoconferencing as it offers virtual face-to-face interactions between the people in meetings through the transmission of life-size, high-definition images and audio.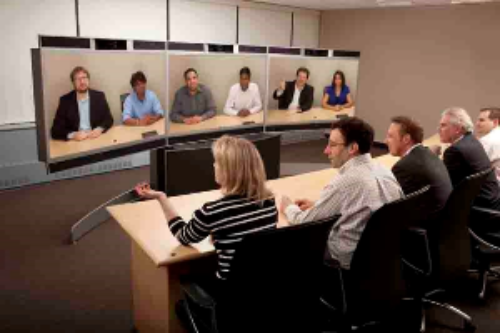 What ETS is doing about telepresence?
ETS is working with Cisco Systems to introduce a series of pilot projects to install telepresence on both campuses. This will allow a lifelike conference experience among participants. These pilots project will also provide our faculty, staff, and administrators the opportunity to learn how this technology might best be applied to the challenges facing so many of our district colleagues. It can potentially reduce travel requirements for meetings and support the sustainability initiatives championed by our district. Through these pilots, each college will establish a telepresence suite as well identify location for a telepresence "concierge" location where students from Middlefield or the coming new Education Center can confer with campus-based staff without the need for either to travel.